Reach: 31 programs serving 1,591 youth
Programs partnered with: 16 BPS Schools
Average rate of attendance: 85% (range 46% – 100%)
AQP programs exceeded the benchmark in all 15 areas of general program practice as rated by a third-party observer.
On average, observers and youth rated programs at or above the benchmark in 6 out of 9 areas of practice that build ACT Skills.
Room for improvement identified in practices that build critical thinking, self-regulation, and providing youth leadership & choice.
BoSTEM programs made improvements over the course of the year, with areas of ongoing challenge identified as youth voice, STEM content learning, inquiry, and reflection.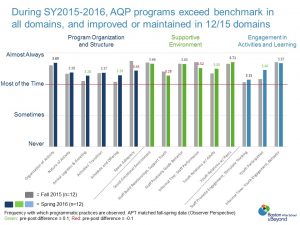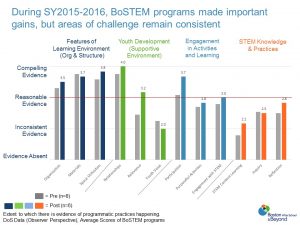 //php endif; // if( have_rows('question_answer') ): ?> // endif; ?>