Get to know us by clicking through some case studies.
Learn about some summer rock stars who customized programs for the students in their community. Connect with a particular metric or explore them all and find your kindred spirits.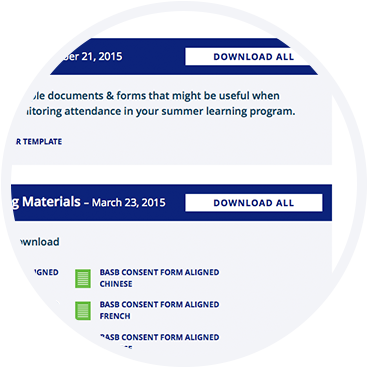 Download customizable resources in a flash!
You'll find links to downloads within the content but we've also collected all downloads available on the site into one section for quick access.
Grab what you need and get back to the important stuff!
Our Growing Community
The Boston Summer Learning Community represents a citywide approach to summer learning, more than any individual program or school could do on its own. Bound by common measures, the Community strives to increase student participation, improve program quality, and scale best practices. Mayor Martin J. Walsh and Superintendent Tommy Chang have set a goal for the Community to grow to 100 programs serving 10,000 youth by 2017. We invite you to learn more about the Community and join us in our efforts to maximize the potential of summer learning for every Boston student.