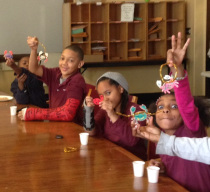 Last month, school level events happened across Boston. Young Achievers School, Haley Elementary, Warren-Prescott K-8 and Adams Elementary, in partnership with Courageous Sailing, all held holiday lunch events.
At the events, each selected student said their favorite memory of SLP while pizza was served.  After lunch, students decorated sailing and water-themed ornaments to take home.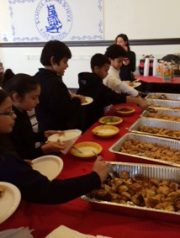 At Adams Elementary, Alexia Cuellar, the school's Engagement Coordinator, began planning the holiday engagement event in November.  She started with word of mouth, telling the selected students that they were invited to a nice lunch to kick off the Summer Learning Project.  Then, Alexia called the students' parents and asked them to attend the lunch, too – and some did!

At the event, appetizers were served as selected students shared memories of publishing books, sailing, swimming in the pool, and visiting the USS Constitution Museum.  Students also took time to decorate holiday cards for SLP staff members and supporting organizations.  For dessert, cake was served to the student and their families.
Even the two students from the Adams that did not attend the SLP came to the lunch, Alexia noted, "I think the excitement among all of the students made these two feel part of SLP too.  I was very happy to see them sharing and having fun."

Original publish date: January 29, 2014