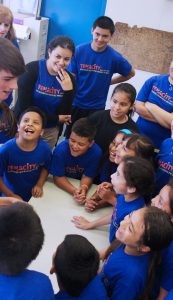 "A student came running down the hall," explained SLP Site Coordinator, Ashley Currie, "and screamed, 'Where is Coach Joe?'"  This exuberant student was one of the many selected-SLP students who attended the Open House event held at the Jackson/Mann School last week.
Before the Open House was held, SLP staff gathered the students together to tell them about the event and that two of their tennis coaches from the summer, Coach Joe and Coach Janisel, would be attending.  Students were also sent home with flyers, alerting their parents to the event, which was to be held from 5:00 – 7:00 PM.
One student was very excited to see Coach Joe.  Ashley explains, "This particular student has been having a challenging a year and it was great for him to reconnect with Coach Joe, who was such a positive role model for him all summer."
While Coach Joe and the student caught up, other Open House attendees were given pertinent information about the Tenacity-Jackson/Mann SLP program, including the start date and running time.  The biggest news shared with students and families was that all of the coaches from summer 2013 are returning for summer 2014!
At the end of last summer, students at Tenacity sites received their own tennis racket.  The excited student told Coach Joe that he still had his racket and that he stored it in his sports bin at home, safely in his room.  For attending the open house, all students received a Tenacity bracelet – another item that reminds students about the fun they had over the summer.
Original publish date: December 13, 2013